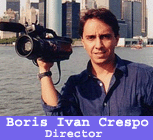 BIC Producciones is a Cuban film production company with expertise ranging from advertising and music videos to documentaries, travel shows, TV, journalism and feature films.
Based in Havana, we are a member of the Asociacion Cubana del Audiovisual, an independent and non-governmental association of filmmakers, which allows us to provide assistance and help to Cuban and international productions. Subsequently, BIC Producciones is able to secure the necessary shooting permits and enlist the support of Cuban cultural institutions, directors, producers and crew members.
BIC Producciones head is EMMY award nominee Boris Ivan Crespo. Since 1997, we have developed, co-produced and directed countless of national and international projects. With a proven track record for professionalism and a reputation for excellence, BIC Producciones is Cuba's premier independent production company.